Introducing, and re-introducing our AMSS Board
By: Debbi Serafinchon
Admittedly not a safety piece this month but a much needed look at behind the scenes of AMSS, who is working so hard for motorcycle safety and awareness and a little bit about their human side!
Liane Langlois is our fearless leader and because of her vision to make it safer for riders to be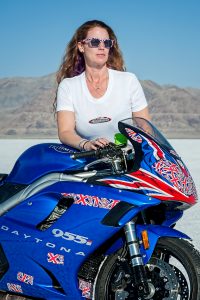 on the road, we have the Alberta Motorcycle Safety Society. She works hard to incorporate riders, the industry, and government into all that we do to make a difference for all of us that are passionate about riding.
Riding is her happy place and you'll find her cruising on her Triumph Speedmaster or zipping around on her Triumph Daytona 955i. She loves the peace that riding offers her. Her work with the AMSS is only the tip of the iceberg when it comes to donating her time to all things motorcycle. She is actively involved with other motorcycling events with the most moving experience of her life being when she was racing on the Salt Flats. If you ever get a chance to ask her about it, her eyes will light up and you'll be drawn into the excitement with her!
Marty Forbes has been riding for a number of years and joined forces with Liane to get the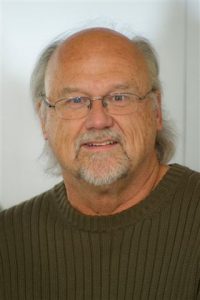 AMSS off the ground because he believes that safety and training can save your life if you ride. For Marty the magic of the ride is the sheer enjoyment of two-wheel freedom, but it needs to be done smartly and safely.
Marty has had the opportunity to ride a few different bikes over his 50 years of riding, but his favorite is the 2018 Honda Gold Wing. He sees himself putting on a number of kms over the next few years through the beautiful mountains and west coast. To date, his most memorable trip was on an Edelweiss Motorcycle tour through Germany, France, Switzerland and Austria. He spent seven days riding through the Black Forest and the Alps, at times on an eight-foot path with no guardrails and a view that cannot be described.
Jon Watchuk was drawn to the way that AMSS is making a difference for motorcycle riders. He loves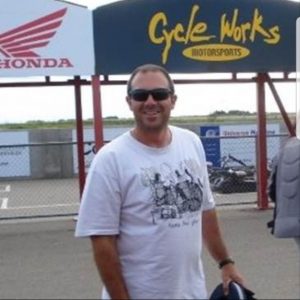 riding and hates to see anyone getting hurt by following their heart. For over 25 years, Jon has been enjoyed riding so much that he has put on almost 300,000 kms! He can't imagine not being able to swing his leg over the saddle and head out for some blacktop time.
For four years running, Jon completed the Alberta 2000, which was one of North America's premier motorcycle endurance rallies. He has owned 81 Yamaha DT175, 84 Yamaha Seca 400, 91 Suzuki Katana 600, and a 97 Yamaha YZF1000, of which he liked so much he has owned two!
Debbi Serafinchon wants to be able to experience riding for many years to come and got
involved with AMSS because she saw the importance of their work to keep us all safe on the road. She has only been riding for 3 years but has racked up over 40,000kms.
She loves her windshield time and the ability that riding has to put a smile on her face. She often wonders why she waited so long to experience this incredible feeling of ferociousness. She ventured down the west coast from Edmonton along Interstate 101 to Los Anglos this summer and driving across the Golden Gate Bridge is a feeling she'll never be able to replicate.
Mike Schmidt came on board with AMSS because he believes if we can help one rider be safer
or one driver become more aware of motorcycles, he feels all our work will be worth it. Mike understands what riding can offer someone and wants others to feel safe enjoying what he views as food for the soul. When he heads out of his driveway with no destination in sight, he knows that by the time he heads back, he will have time to be alone with his thoughts.
Mike started his love of two wheels when he was only 12 on dirt bikes and moved up to a street bike when he was 17. He currently rides a 2015 Victory Magnum but has fond memories of his very first bike, a 1985 Kawasaki KX250. We all have memories of a ride we will never forget and Mike remembers when a group headed from BC on a ten-day road trip down the US coast and back home.
Doug McFayden wants to make it home to his family and friends after each and every ride. He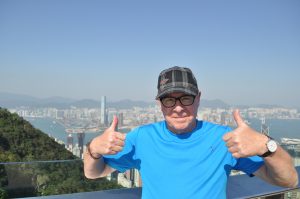 knows that riding his motorcycle is a high risk activity and that doing so safely is important to him. He joined as a board member with the AMSS to help start the much needed conversations around motorcycle safety in hopes that the riding community would listen and those conversations would lead to actions taken. He knows that in just the time he's spent on the board he's changed his own habits for the better.
Doug has owned a number of bikes over the 32 years he's been riding. He started at the young age of 14 then took a break at 25 years of age until he turn 40 and has been riding ever since. There is nothing like getting on two wheels with a gasoline tank between your legs, smelling the air, hearing sounds so much clearer and feeling the vibrations from the engine. One of Doug's favorite riding events is the "Motorcycle Ride for Dad." He has personally raised over $20,000 for this worthwhile cause and because of him riding to raise awareness, he has had three close friends go for testing and they were subsequently a success story.
And there is our AMSS board.  Six very dedicated people working towards making a difference in motorcycle safety and awareness who are every day people.  Each of them with similar yet different reasons to get involved, who all voluntarily want to be here.