Spring Tips to Consider
by: R. Bruce Thomas
Wow. It's that time of year again. Have you been out riding yet? We didn't get tons of snow over the winter so many roads are bare and dry as long as you don't go out too early when there could still be ice on surfaces. A heated jacket liner is essential at this time of year.
Now is a good time to check over your gear to make sure it is in good condition before the season gets underway. A very important piece of gear is your helmet, in particular the visor on your helmet. Is it scratched or damaged at all? Does it seal properly? Does it have a pinlock insert that needs attention?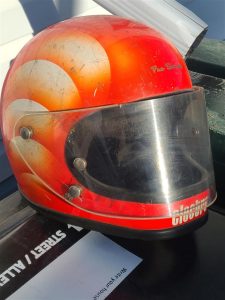 Visors have made huge advances in the nearly 50 years that I've been riding. I've always gone for hi-visibility colors and full-face helmets but you can see that the visor on my first helmet was held on with four snaps. It didn't seal against the helmet, but at least it kept the wind, rain, and bugs out of your face.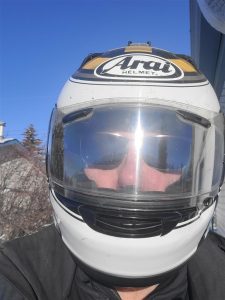 As time progressed, visors were designed that fit snugly to the helmet to keep the elements out, and then venting was required to prevent fogging up. It was necessary to wear sunglasses on bright days.
When the sun is very low in the sky it helps to put a piece of electrical tape or similar across the top of your visor to help block the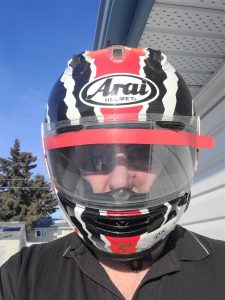 sun. Don't use Duct Tape as it doesn't come off clean and leaves a mess to clean off.
Many manufacturers make tinted visors that a rider can easily swap out in place of the clear visor as my buddy Don shows with his Shoei. I'm not a fan of these as they require careful packing and take up luggage space plus time to change the visor when lighting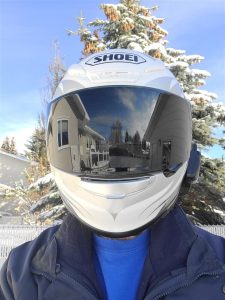 conditions change.
My preference is the internal retractable sun visor that can easily and quickly be brought down or retracted. When these first appeared on helmets, and still exist on some brands, they were external and invariably when you needed it they were covered with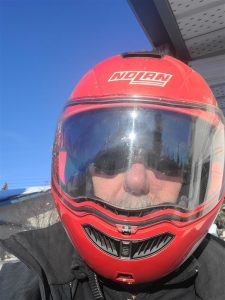 bugs and were basically useless to see through.
So that covers making sure you can see.
To make sure you are seen on the roads, since Alberta drivers are about 5 months out of practice of sharing the roads with motorcyclists, make sure your lights are all clean and working, stay out of blind spots, use active lane positioning to make sure you are in a position for others to see you, and maybe go ride in the country or on the highway for a while to shake off your own rust and get your riding smooth again. Track days early in the season are also a good way to get back in the groove.