Calgary & Edmonton Bike Show Success
We Are Growing!
by: Debbi Serafinchon
Alberta Motorcycle Safety Society is always looking for ways to reach the public and increase our presence. Building recognition for AMSS will help in promoting motorcycle safety, education, and awareness all across Alberta.
One of our projects we are focusing on is the We Are project. It is the human aspect of who is under that helmet. AMSS took to the Calgary and Edmonton Motorcycle shows to promote our message and to connect with those near and dear to our mission, those with a vested interest in motorcycle riding.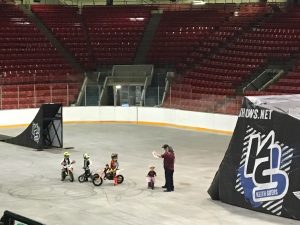 The Calgary Motorcycle Show ran from January 5th to 7th and our fearless team headed down to Calgary to mix and mingle with the riders from the south end of our province.  We saw an increase on brand recognition this year which is a major positive forward movement for AMSS' growth. Calgary's show focused on family and youth riding and what better audience for talking about safety then the riders of tomorrow. With over 26,593 attendees at the show, we had plenty of opportunities to chat with those that came out.
Edmonton was in the middle of a cold snap on the opening day of the Motorcycle show but warmed up for the rest of the January 12th to 14th weekend show. We saw an attendance of 24,476 enthusiastic consumers checking out the latest bikes, new gear, and all the other exhibitors. Our booth had a high traffic location, and many stopped in to inquire about who we are and what we do.  We even had some come down just to pick up their membership and some other merchandise.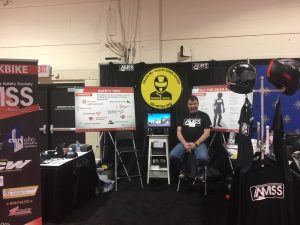 Not only did we get a chance to catch up with some of our riding buddies and reminiscence about past rides and get excited about the trips we are going to take this summer, we also got a chance to talk to our sponsors and network with future Corporate Members. We had a fair number of folks sign up for personal memberships as well (you've got yours, right?) and tons of inquiries as to who we are and what we do.  Both Klondike Insurance and Grover Law, each current Corporate Members, gave us some cool swag to give away at both shows that got snapped up pretty quick!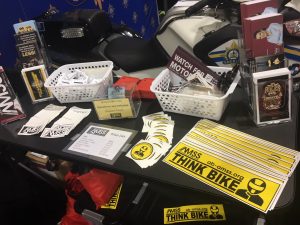 Thank you to all who helped out in the booth, all who stopped by to say hi, and all the effort to helping us become instrumental in the promotion of motorcycle safety, education, and awareness in Alberta.  We certainly send a huge thanks to all of our Corporate Members, our Society Members, and to the Office of Traffic Safety of the Province of Alberta.  With your financial support we are able to be where we need to be to do our thing.
Now bring on spring!  #ThinkBike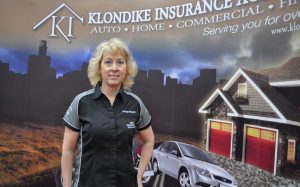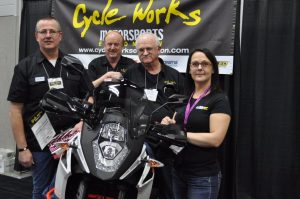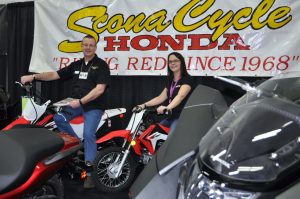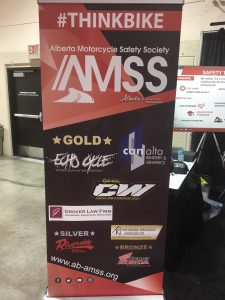 *photos courtesy of Doug McFayden and Liane Langlois