AMSS Recognized with Award from City of Edmonton
June 27, 2017 marked a very special day for the President of the AMSS.  The City of Edmonton presented her with the Community Traffic Safety Award for 2017 after receiving 2 nominations from fellow AMSS board members.  That morning, Liane, Marty, Doug along with a couple other supporters went to City Hall to attend Council Protocol.  They attended a private reception before then entered Council Chambers for the official ceremony.
During the ceremony both Councilor Esslinger and Councilor Loken had some words of encouragement and recognition for Liane's efforts.  They spoke to the many hours put in to the initiative that included the unprecedented partnerships with media, the ever growing partnerships with government, and all the work that goes in behind the scenes.  They spoke to the reason the AMSS was formed, about how the countless and growing motorcycle collision statistics seemed to be getting out of hand and how Liane stated she could do something about that.  Councillor Loken spoke to the partnership with the City of Edmonton Vision Zero initiative and that he has been very proud to be a part of the AMSS launch event for the past 2 years.  Liane was then invited up to receive an award and pose for pictures with the dignitaries.
As Liane accepted this award, she did so graciously and on behalf of everyone involved in making this initiative happen.  It is her vision to lower serious injury and fatality statistics in the motorcycle community throughout Alberta and this does not happen with just one person.  Her team is one of a kind, as dedicated and passionate, each with their own skill set adding to the success of this initiative.  Then add in the incredibly buy in and support from Edmonton media to get things going and expand that out to Calgary and Red Deer as of 2017.  We can't forget the Corporate Members who have stepped up to help fund this project through sponsorship and care for safer roads.  And finally, the volunteers who step up and show up, a lot of whom are paid society members.  Liane and this non-profit have a lot of support and so this award goes to each and everyone of the people listed above.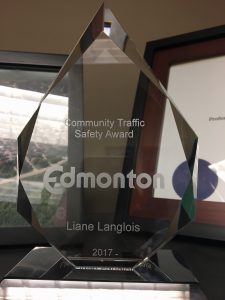 Our work is not done, we have a long way to go.  So in the mean time, riders and drivers alike, remember to Think Bike!