Our Board – Liane, President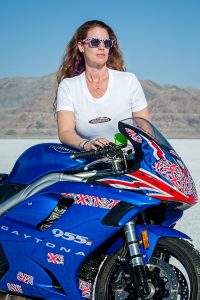 Liane Langlois is our fearless leader and because of her vision to make it safer for riders to be on the road, we have the Alberta Motorcycle Safety Society. She works hard to incorporate riders, the industry, and government into all that we do to make a difference for all of us that are passionate about riding.
Riding is her happy place and you'll mostly find her out riding on her Triumph Scrambler and sometimes zipping around on her Triumph Daytona 955i. She loves the peace that riding offers her. Her work with the AMSS is only the tip of the iceberg when it comes to donating her time to all things motorcycle. She is actively involved with other motorcycling events with the most moving experience of her life being when she was racing on the Salt Flats. If you ever get a chance to ask her about it, her eyes will light up and you'll be drawn into the excitement with her!
Aside from hosting our Think Bike podcast, Liane is responsible for our government relations, first responder partnerships, website, annual general members, and provides the comments to media from AMSS.  Please email info@ab-amss.org for any inquiries.