Our Board – Doug, Director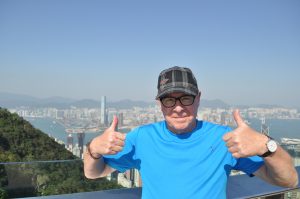 Doug McFayden wants to make it home to his family and friends after each and every ride. He knows that riding his motorcycle is a high risk activity and that doing so safely is important to him. He joined as a board member with the AMSS to help start the much needed conversations around motorcycle safety in hopes that the riding community would listen and those conversations would lead to actions taken. He knows that in just the time he's spent on the board he's changed his own habits for the better.
Doug has owned a number of bikes over the 32 years he's been riding. He started at the young age of 14 then took a break at 25 years of age until he turn 40 and has been riding ever since. There is nothing like getting on two wheels with a gasoline tank between your legs, smelling the air, hearing sounds so much clearer and feeling the vibrations from the engine. One of Doug's favorite riding events is the "Motorcycle Ride for Dad." He has personally raised over $20,000 for this worthwhile cause and because of him riding to raise awareness, he has had three close friends go for testing and they were subsequently a success story.
Doug helps with government relations and research.