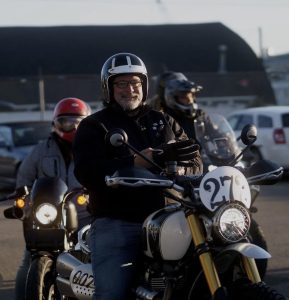 Sean Connor has been on the AMSS board for a few years. As the Alberta Motorcycle Safe Society grows Sean has represented our message in southern Alberta with the help of Adam, Bruce and other volunteers. His passion for riding a motorcycle is equal to his dedication to road safety.
His two-wheel time is divided between local events and bike nights and touring around southern Alberta and BC. Several times a season you can find Sean touring and camping anywhere in the Rocky Mountains. An annual pilgrimage to the Kootenay Rat Raid and Bonneville Salt Flats are a must for him.
It all started with a Yamaha 80 Enduro as a kid. A Honda 125 Trail, the single seat orange bike sold to farmers, was used to get to high school. The last several have been different models of Triumphs. A Scrambler and an old T140v are the current favorites.
Sean is our lead for the Calgary based directors.