Our Board – Lance, Secretary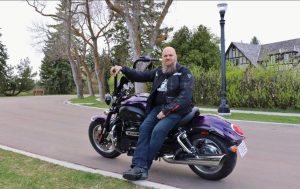 Lance Pare wanted to be involved with AMSS since it was founded because he has always been a big believer in motorcycle safety.  He became a member then stepped up as a board member around 2019 taking on the role of Secretary.
What Lance loves the most about riding is just being more involved with his surroundings and finds it is a great stress reliever.  That is something we all relate to.  While Lance has made a few trips around, his absolutely favourite is riding out to Nelson, BC.  He says no matter what road he takes, the ride is always amazing.  The Kootenays are a favourite of a few board members.
Lance has owned a multitude of motorcycles since 1974 but his favourites he wanted to share include a 1986 Honda V65 Sabre, his 2018 Triumph Rocket III and his 2019 Indian Roadmaster.
Lance is part of the Edmonton Directors and responsible for keeping our board and the paperwork organized!