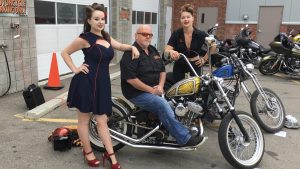 Bruce Weese has been in the powersports game for a long time.  When AMSS first started up back in 2016, Bruce was quick to want to learn more and connected with Liane.  Although in the game already, Bruce became a member on a personal level.  He believes in what AMSS is doing and wanted to be a part of it.
Bruce says what he loves most about riding is the wind in his hair while his favourite place to ride is anywhere as long as he is riding.  He is an avid bike builder in his down time with projects on the go all the time.  Motorcycles are most definitely in his blood.
Bruce has owned quite a few motorcycles including an Allstate 60, Yamaha 110, 1996 Honda Dream, 1973 Kawasaki Z1, 1980 Honda CM400T, several Yamaha XS650s, 1980 Kawasaki KZ440 and a 2015 HD Ultra.  His favourite though is his 1996 Sportster Hardtail that his sweetie bought for him so he could hang out with the younger women!
Bruce is part of our Calgary directors and brings a wealth of industry knowledge to the table, and humour if you couldn't tell!